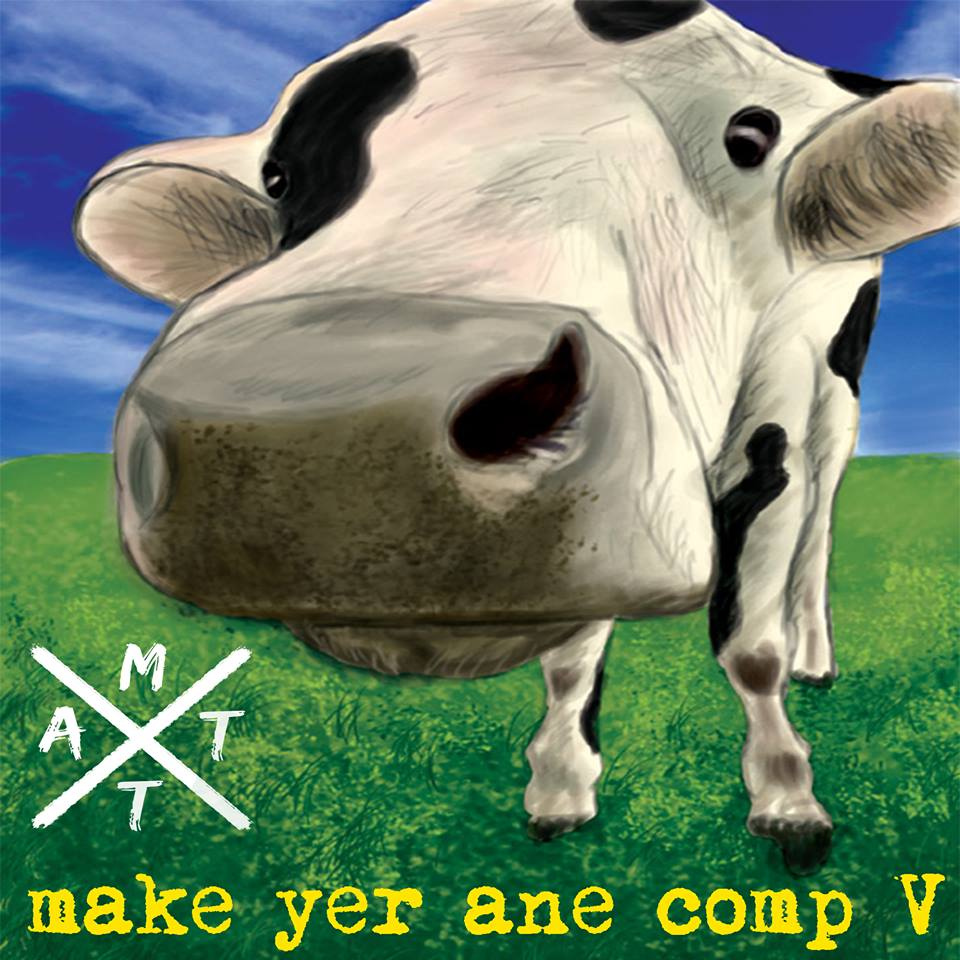 Make Yer Ane Comp V
Make That A Take: "MAKE YER ANE COMP V is the latest installment of our MAKE YER ANE COMP series, all of which are available for free/pay-what-you-want download.
Thank you so much to all the bands and the labels involved for donating their songs and being part of the worldwide DIY punk rock family. All details and contact information for the bands and labels are contained within, so please do continue to support DIY punk rock.
Big thanks to Asian Man Records, Round Dog Records, Cats? Aye! Records, Paper+Plastick Records, All In Vinyl, Everything Sucks Music, Team Beard Records, What We Should Be Doing, Tiny Little Creatures, Struggletown Records, Cold War Legacy Records, Black Lake Records, The Ghost Is Clear, Boslevan Records and all who continue to put in the graft!
Please feel free to download and share this compilation with your friends and get out to shows, start bands, start labels, write a zine, cook a meal, make some art; do whatever you can to get involved with your local scene."
1. The Walking Targets – Threads
2. The Kimberly Steaks – Wrong Exit
3. Get It Together – Carry You
4. The Murderburgers – Turning 25 Was Shit
5. Sink Alaska – Hitless Wonder
6. Bear Trade – Bleeding Heart Trouble
7. Guerrilla Monsoon – Big City Plan
8. Lachance – Bright Hearts Burning
9. Kaddish – End, As In Aim
10. Uniforms – Father's Day
11. Frown – Under Hot Sun
12. Billy Liar – Sleep
13. The Doublecross – Houses and Homes
14. Terrafraid – The Fall
15. First Step To Failure – Drowning Out
16. Don Blake – Underpants Collection
17. The Luddite – Quitar
18. Eddy & The T-Bolts – Holy Wars and Mental Wards
19. Zen Fuck-Ups – Victim
20. The Shithawks – Do It Cool
21. Rope Spasm – Marlboro Man
22. Bed Of Wasps – Failing
23. Algernon Doll – Relate
24. Hahira – Febrile
25. Stonethrower – Vector-Borne
26. Proverbs – 8
27. Condolences – Dearly Departed
28. Broken Stories – Best Of Friends
29. Question The Mark – Whatgoesaroundcomesaround
30. Shatterhand – Mosiac
31. Maxwell's Dead – I Just Wanna Say (Fuck You!)
32. The Rocco Lampones – S.O.S.
33. Robot Doctors – Rules
34. Tim Loud – No Gods, No Masters
35. Lovers Turn To Monsters – One Day At One Moment…
36. Mark McCabe – My Disguise Is Better Than Yours
37. The Cinnamon Service – Grace
38. Andy Thomas' Dust Heart – Poor You
39. Tragical History Tour – Rebel Girl (Bikini Kill)
40. Danny, Champion Of Nothing – Hawthorn Ridge