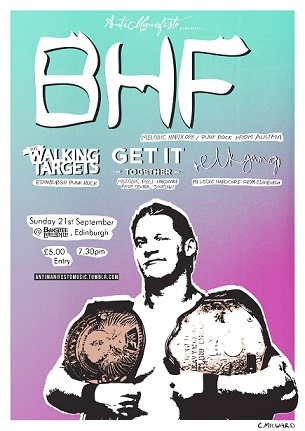 We are pleased to announce that we will be supporting Austrian melodic hardcore band BHF on the Edinburgh show of their UK tour. Joining us on the bill will be our good pals The Walking Targets and Elk Gang. Anti-manifesto will be putting this gig on at their usual location at The Banshee Labyrinth on September 21st 2014. A Great lineup for the usual £5 entry promises to be a great night!
BHF
– Austrian politically charged melodic hardcore band on Laserlife Records. FFO: Astpai, Red Lights Flash and Propagandhi. Check them out here: bhfmusic.bandcamp.com
The Walking Targets
– Edinburgh's favourite punk rockers. Buy their new album "Chasing Days" on Round Dog Records. FFO: Iron Chic, Hot Water Music, Dear Landlord. Check them out here: thewalkingtargets.bandcamp.com
Elk Gang
– Melodic punk rock/hardcore from Edinburgh feat. 3 people that used to be in Shields Up and 3 people who are still in Taking Chase. FFO: Touche Amore, Iron Chic, The Flatliners. Check them out here: facebook.com/elkgangmusic
You can keep up to date with our other shows on this page.
GIT x